As a small business owner, when you're looking for the best POS system, it's essential to figure out the most cost-effective solution with the best user experience and tools you need to run and grow your business. SoftPOS, a revolutionary payment technology, offers excellent opportunities to eliminate merchants' costs to accept payment transactions and gives them the ability to manage their business efficiently. There are a lot of cost items and operational overheads in traditional POS System. SoftPOS eliminates most of these costs and helps you to save time and money. And more importantly, being a software-based POS system offers the best user experience and flexibility to add new features.
This article will compare traditional POS systems and Soft POS systems to see how cost-effective it is to have a Soft POS system and reduce friction during various phases such as POS setup and payment acceptance.
What is POS System
A POS system enables you to accept credit and debit card transactions and track/monitor sales transactions, settlements, and chargebacks.
A traditional POS system includes :
POS terminal hardware
POS terminal software
Inventory management software
Sales tracking and monitoring software
Additional softwares like email marketing, customer engagement, and loyalty
What is SoftPOS
SoftPOS is a software-based POS system running on Android phones. Traditional POS System come with POS terminal hardware. SoftPOS radically changes the traditional model where there is no hardware any more. Rather than being tied to a countertop set up like a traditional POS running on a desktop computer, SoftPOS app can run on any device, including tablets and smartphones.
Which merchants are the best for SoftPOS? 
SoftPOS app offers numerous advantages for all merchants, especially for small ones. For small merchants, time is essential. Increasing revenue and reducing costs are the highest priorities. As they rush to offer their products to the market in a short time, the payment acceptance process should be straightforward and seamless. They should be able to own a POS system and start accepting payments in the shortest time. These merchants can't afford high-end and expensive POS system.
SMB market in the United States
According to Deloitte Connected Small Businesses US report, more than 5 million business owners have 1 to 19 employees. 20% of these merchants are at the basic level where the business has a relatively undeveloped digital presence, using only essential tools such as an email address, with no website or social media presence. 30% of them are at the Intermediate level where they have digital tools such as a simple website that make use of essential online marketing tools. However, almost none of these basic level and intermediate level businesses have the proper payment acceptance solutions. These merchants can't afford expensive and difficult-to-use POS system. SoftPOS brings excellent opportunities for these kinds of merchants.
Ideal solution for on-the-go merchants 
SoftPOS technology offers excellent opportunities for different merchant categories. On-the-go merchants, pizza distributors, and door sellers are just a few of these merchants. With SoftPOS app, these merchants don't need to carry a reader in your pocket. They don't need to plug in any device to the headset jack of your iOS or Android device. They can easily take secure credit card payments on the go.
How can I use SoftPOS app?
How can I start accepting credit and debit cards on my mobile phone?
All you need is an Android phone to accept debit and credit cards. You just need to download the SoftPOS app from the app store, sign up for Soft POS backend systems, and that is it. You can start accepting payment transactions in minutes. You can also take over-the-phone orders by keying in payment info into the secure screen on your mobile phone.
Do I need to connect a reader to mobile phone? 
No. SoftPOS technology relies on the build-in NFC communications on Android phones. There is not any external reader. This eliminates the Bluetooth pairing issues and overhead of carrying additional hardware in your pocket.
How can I run a payment transaction with SoftPOS app?
Once you downloaded the SoftPOS app into your Android phone, you can immediately start taking payments. It is super easy. Just enter the transaction amount on your Android phone and ask the customer to tap his or her card or mobile wallet to the phone. You will see on your phone's screen instructions and details about payment transaction. At the end of transaction, you will see if the transaction is accepted or declined. You can print a paper receipt with a Bluetooth printer connected to the mobile phone or send the digital copy of the receipt to the customer's email address. With SoftPOS app, you will have a similar user experience with that you have today with traditional POS or mPOS terminals. But having all this experience on the mobile phone makes everything much more straightforward.
Once you downloaded the SoftPOS app into your Android phone, you can immediately start taking payments.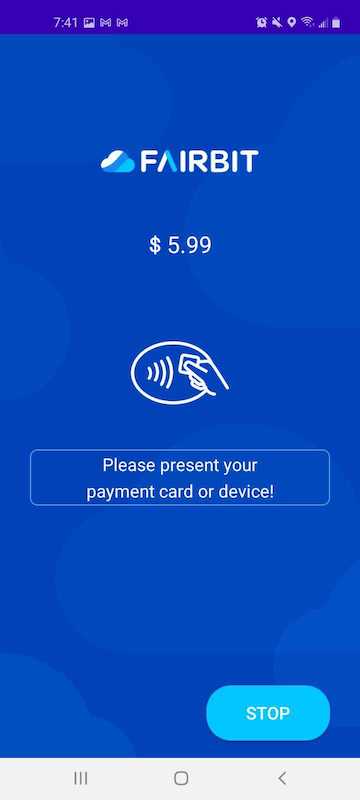 Accepted payment methods with SoftPOS app
You can accept all payment methods supported in traditional POS system with SoftPOS app. These methods include :
Credit and debit cards
EMV contactless cards
ApplePay, AndroidPay and other Pay wallets
EMV contact cards (this requires a low-cost integrated reader)
Is SoftPOS technology secure? 
Short answer: Yes. SoftPOS technology protects customer account data with software-hardened security methods on mobile phones and advanced HSM-based methods on the cloud. SoftPOS technology is being promoted by all major card brands like Visa, MasterCard, Amex, and Discover. Here you can find a link about Visa Tap to Phone SoftPOS. PCI, an organization defining payment security standards, defined a security standard for SoftPOS. Fairbit is certified for PCI DSS standard. There are a lot of pilots and live projects by Visa, MasterCard, and other card brands throughout the world. You can accept contactless payments and protect your business from the liability shift with Fairbit's certified Visa Ready Tap to Phone SoftPOS EMV Kernel.
How can I see transaction reports?
You just need to sign up for Soft POS backend systems. You can use the SoftPOS app on your mobile phones to track and monitor sale transactions, see decline rates, and toggle on/off the tip and many more features. Fairbit has a cloud-based SoftPOS solution giving numerous opportunities for reporting and monitoring.
How SoftPOS technology eliminates hardware and operational costs in a POS system
Initial setup
In the traditional model, when you want to have a POS system, you need to order it from your ISO/ISV, and it takes some time to get it. Sometimes, you may need to wait for weeks due to limited POS hardwares in the warehouse, slow transportation, or other issues.
With SoftPOS technology, it is super easy to own a POS system. As SoftPOS is a software-based POS system, there is no need to buy POS hardware. Once the acquirer approves your business, you just need to download the SoftPOS app from App Store, and you can start accepting payment transactions in seconds.
No POS hardware cost
Traditional POS System always includes a hardware cost. This cost changes depending on your business type and size, the hardware capabilities and features, and the software running on the hardware. Typically POS terminal cost varies between $500 and $1.000. If you are a small business, you may be using an mPOS terminal. Typically mPOS cost ranges between $50 and $150. You also need to pay a hardware maintenance fee.
SoftPOS technology eliminates all these hardware costs. There is no hardware, and there is no cost.
With SoftPOS, you can save from time and money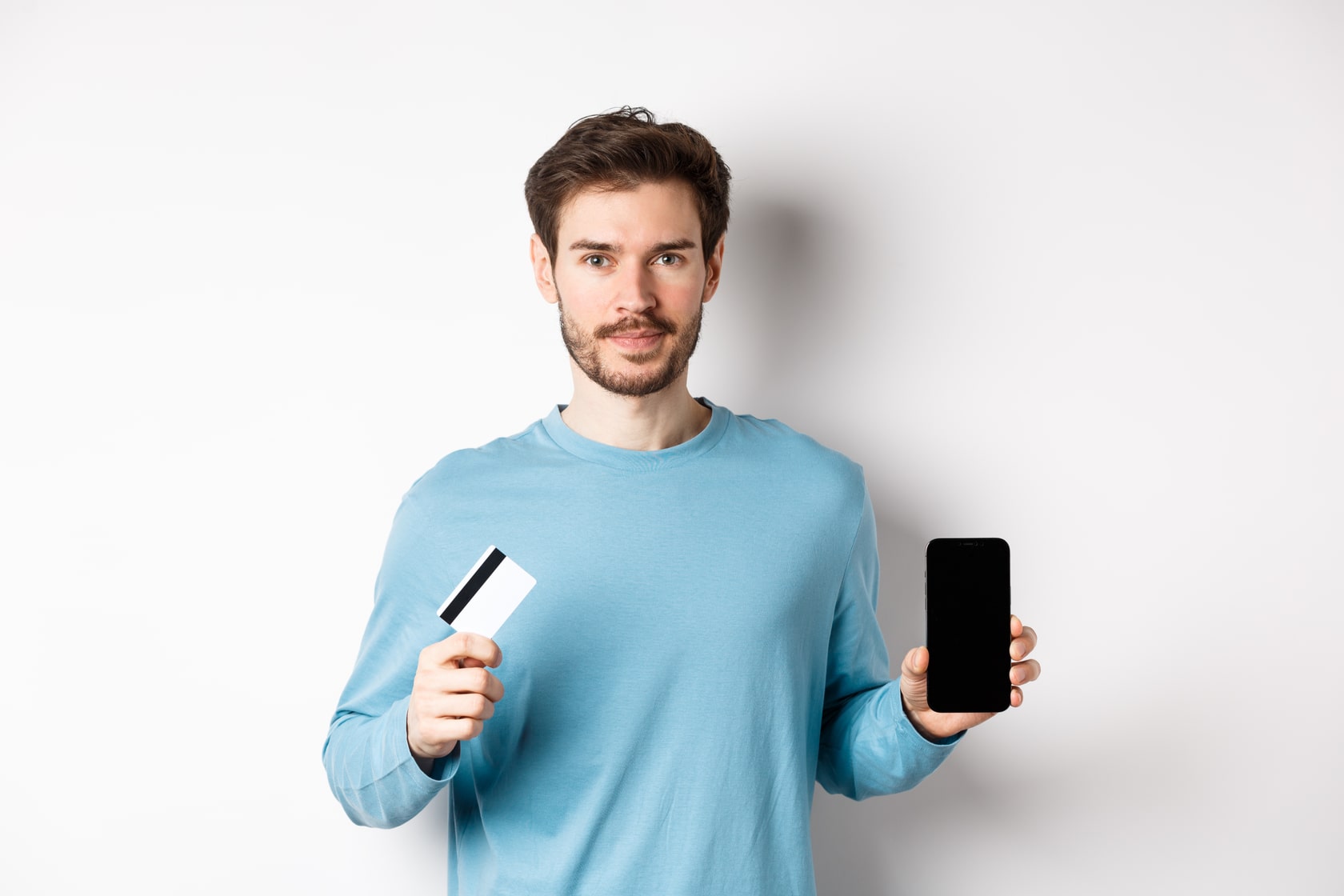 Benefits of using SoftPOS
There are many benefits to using Soft POS system, especially for small businesses. Apart from the time and money you save, there are a lot of other benefits. All payment transaction data is recorded in the cloud in real-time. This gives an excellent opportunity to track and monitor your sales, but it also enables you to get alerts if there are unusual situations like payment frauds or suspicious activities. Unlike traditional POS system, SoftPOS  can immediately access all transaction data to figure out fraud cases.
Better user experience
Users are traditionally very familiar with mobile phones, but not with a POS terminal. SoftPOS technology enables users to use mobile phones for payment transactions rather than POS terminal. In the traditional model, merchants should spend a lot of time understanding how to use, operate and maintain the POS terminal. Each POS terminal vendor has its custom user screens, custom menus, and custom operational guides. Merchants need to understand functions such as setting up the device initially, connecting it to the internet, sending a bug report if a problem occurs,  toggling on/off the tip, and so forth. With mobile phones, most of these processes happen behind the scene. Users don't need to worry about all these staffs. For example, if a bug occurs, a manual operation may not be needed. As most of the operations are cloud-based, Soft POS system already knows the problem.
Advanced sales analytics
Good Soft POS system offers comprehensive sales analytics and data with web-based tools. You can easily access all of your transactions, filter them with different categories and get advanced sales reports based on your choice. It also gives you transaction reports with transaction decline rates and reasons for declines. You can check sales analytics from multiple locations: on your PC or your smartphone.
Eliminate hardware issues
SoftPOS technology eliminates many issues in traditional POS system, such as waiting time for POS terminal, POS set up issues, hardware problems (i.e., printer not working, freezing screen, etc.), difficulty to understand the hardware functions, and so forth.
Speed up lines
SoftPOS technology provides mobility. You can make the payments anywhere in your store or outside the store. For example, for restaurant owners, it is frustrating for customers to wait in the cashier queue to make payment. You can take the payment on the table with your Android phone. Or you can take it at any location in the store. If you are a door seller, it may be frustrating to carry a POS terminal with you and turn it on each time you want to make a payment. When you deliver the product at the door, you can simply use your mobile phone to make the payment at the door.
Your POS app remains always updated with the new version
In the traditional POS system, the POS application runs in the hardware, and it is not easy to update it. For merchants, it becomes very frustrating if the software is updated in the middle of a payment transaction. It is not unusual to have unexpected problems and the POS terminal to stop processing.
With SoftPOS technology, the software update process is seamless. Unlike hardware POS terminals, mobile phones have well-designed software downloading mechanisms, and they are always turned on. On the traditional POS terminals, the software update should be performed when the device is on. For mobile phones, the software update may happen during your sleep time or at any other time.
Better customer engagement
Mobile phones offer great opportunities for customer engagement. You can use different apps to have better customer engagement, such as email marketing and campaign management tools, and loyalty applications. These tools can integrate into the payment process, which is very difficult at traditional POS system.
Easy app integrations
Enabling third-party developers to develop additional apps on POS System offers excellent opportunities. For example, a loyalty app, invoicing app, tax app, restaurant order app. These apps help merchants to do their business more effectively. Traditional POS system should have third-party app developers understanding their complex hardware and software systems to develop a third-party app. It is a lot of effort and time-consuming job for app developers. However, with SoftPOS, the apps run on a mobile phone or the cloud, not on the POS hardware. It is much easier to develop apps integrated into the Soft POS System.
Conclusion
SoftPOS technology has already started to become an alternative to traditional POS systems. As a merchant, it is just the right time to consider your SoftPOS strategy. Fairbit, with its certified solution, would be very happy to help you. Please contact [email protected] for more details.